1 July 2019
Bestel3D announced today that the ordering data portals for 3D data and aerial imagery have been closed. We are focusing on tailor made advice and large area data sets. Clients are requested to order aerial imagery and height data via our contact form. Specify the area and the data type and we will issue a price quotation.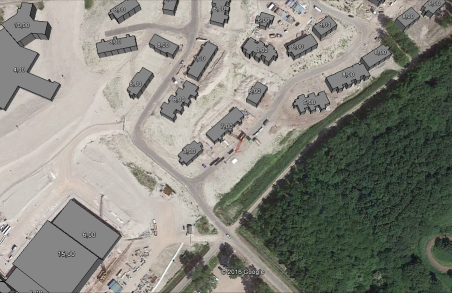 26 February 2019
Bestel3D announced today the company is going to stop the automatic Aerial Imagery ordering websites as of 1 July 2019. The 3D data ordering website will stop in the second half of May 2019.


14 January 2019
It is now possible to order 2018 aerial images via our general contact form. Please specify the coverage and size and resolution of the requested image and we will respond with a quotation.
25 May 2018
As of today, the new General Data Protection Regulation (GDPR or AVG in Dutch) is applicable. We have renewed our Privacy declaration in orer to comply with this regulation.

13 November 2017
Various provinces ordered up-to-date Digital Terrain Models. These models are an essential part for noise emission maps in accordance with European guidelines.
20 December 2016
It is possibe with immediate effect to order new DKLN 2016 imagery via our aerial imagery ordering system. It is also possible to order 2015 images. The ordering platform is tailored for clients who need aerial images as digital files (not as services).
31 May 2016
We completed a project for the Municipality of Almere by updating a 3D model of the Almere Poort area. Almere provided elevation data to us. This project is a follow-up on a previous project some years ago and is making Almere visible on a (3D) map.
27 January 2016
Bestel3D.nl has reconfigured the aerial imagery ordering system, so that DKLN 2015 imagery can automatically be delivered to our clients.
4 September 2015
The GIS Magazine has published an extensive article about the new 2014 Vector-NL data in our ordering system (www.Bestel3D.nl). The article also describes a variety of applications.
21 May 2015
With immediate effect, our ordering website (www.Bestel3D.nl) is delivering Vector-NL elevation data based on 2014 stereo aerial imagery. Significant numbers of buildings and vegetation have changed compared with 2008. This concerns either errors or modifications. The Digital Terrain Model is still based on 2008 stereo aerial imagery since the soil is less frequently changing than the buildings (specially within cities).
5 January 2015
New DKLN Aerial Imagery (edition 2014) has been delivered to a public water company in the center of The Netherlands. The DKLN2011 edition has also been delivered in order to track changes. Read more about DKLN imagery and the availability of new 2014 imagery.
10 November 2014
Bestel3D.nl has improved the ordering websites and is introducing some new functionality. It is now possible to search by address or zipcode at BestelLuchtfoto.nl and at the Bestel3D.nl website. An enhanced information section is now in place at the BestelLuchtfoto.nl site as well.
3 September 2014
The first test DKLN2014 test images have been made available. The images are not final but provide an insight in the product that will be released later this year. The aerial image specifications are equal to the 2011 specifications so that images can be compared. This enables us to detect differences at a nation wide scale.
15 July 2014
The municipality of Haarlemmermeer ordered a 3D elevation model for the built environment. In the past, Haarlemmermeer ordered a 3D Digital Terrain model as well.
20 May 2014
We spent significant efforts over the last months improving the functionality of our MapsAndMore software platform. A complete software and user administration module is now available. MapsAndMore enables organisations to create and publish maps without the usual complications.
24 March 2014
New DKLN Aerial Imagery will be made available to the Rijks Universiteit Groningen for visualisation purposes. Two different versions are being delivered in order to track changes. Read more about DKLN imagery and the availability of new 2014 data.
6 March 2014
The detailed Algemeen Hoogtebestand Nederland (AHN) elevation dataset has been made available to the public. The AHN2 dataset is indeed large and requires processing software (specially for 3D building reconstructions). Various projects have been carried out with AHN2 data (e.g. The Municipality of Amersfoort). See also: 3D reconstructions of buildings.
18 December 2013
The municipality of Amsterdam ordered a complete 3D terrain model, specially prepared for environmental analyses. The software product GeoMilieu is often used for noise studies, air-quality analyses, and so on. We are pleased that our company is serving the top-20 engineering firms in the Neteherlands (inclusing DGMR, the company responsible for GeoMilieu). We offer suitable 3D data in order to make in-depth analyses possible.
18 November 2013
We have created this new website to serve our clients better by presenting the data and services in a clear manner.
5 August 2013
We are supporting the creation of 3D display capability in a browser for a Dutch research organisation. This project suits well with our activities in the area of 3D Reconstructions of buildings and runs until the end of the year 2013.
22 May 2013
We created the website www.gratis-luchtfoto.nl to facilitate users to download low-resolution aerial images for any part of The Netherlands. High-resolution images can be ordered with the ordering site: www.BestelLuchtfoto.nl.
18 April 2013
Bestel3D.nl is working on smart Geocoding functionality: special software to determine geographic locations based on addresses. It is also possible to clean existing address lists. Read more on Geocoding and test the software.
25 March 2013
We signed a new support contract for a number of geographic and software related services. We will carry out corrective maintenance tasks.
17 January 2013
iBetrsel3D.nl participated in the PDOK Congress held on 16 January 2013 in Theatre Orpheus in Apeldoorn. We showed a number of open data applications.
7 January 2013
We have won the ICT Kring Delft (IKD) IPC prize for the most innovative IPC project, called 3D Reconstructions of buildings. The prize conquest had been organised by the ICT Kring Delft, an organisation in which IT companies are co-operating. The jury consisted of the following persons: Ben van der Burg, commercial director Triple -IT and investor, Pieter Guldemond (Municpality Delft), Prof. Arie van Deursen (software engineering), IT-advisor and entrepreneur/investor Sieuwert van Otterloo and Jan Willem Klerkx, Sales director Euvision and investor.
24 November 2011
We completed a unique Aerial Image Mosaic of The Netherlands. More than 3500 images with a size over 2.6 TB were combined. The Mosaic is a snapshot of The Netherlands in 2011. The aerial images can be ordered via our website: www.BestelLuchtfoto.nl. Additional information is available.
30 September 2011 We participated in the GIS Conference 2011 that took place on 28 and 29 September 2011 (De Doelen, Rotterdam). We demonstrated 3D visualizations using a game engine and geographic data that can be ordered through our 3D data Ordering website.
16 August 2011
The new DKLN2011 aerial imagery set is currently in the final production phase and will be made available for the whole of The Netherlands. Samples can be loaded from the Download section. Contact us in order to get an overview of DKLN2011 availablity.
12 August 2011
Bestel3D.nl sold city models to five major Dutch municipalities over the last month. In addition, datasets were sold to the provinces Noord-Holland and Limburg. A clear trend is visible whereby public organisations decide to directly purchase geographic datasets (rather than indirectly using geographic data from engineering firms). There is an increased interest in vegatation data (as part of the Vector-NL set) in order to support air quality studies. Examples are available through the Download page. Smaller models can be ordered through the 3D Data Ordering Website.
28 June 2011
We compared the accuracy of our building heights with the Algemene Hoogtemodel Nederland (AHN-2, Dutch General Elevation Model) in an example area form Breda. While the AHN-2 is recorded using laser altimetry recording devices, Vector-NL is derived from stereophotos (summer 2008). The height results are very similar for both datasets, as described in the elevation data and AHN-2 brochure. The dataset has, besides a competitive price, unique characteristics. It can be ordered in 3D Data Ordering Website.
13 May 2011
We made an Information over CityGML brochure where the process of creation of a 3D mock-up is explained. It represents a part of Rotterdam, but any area of The Netherlands can be modeled within minutes.
15 March 2011
We have joined today for the last time the 3D Pilot organized by, among others, Kadaster, GeoNovum and TU-Delft. Bestel3D has supported this program with presentations, Open 3D Converter software 3.8, mock-ups and CityGML files. Examples can be found in the CityGML page.
23 November 2010
We are collaborating with 3D print service companies to create physical mock-ups based on the Zprinter technology. The Zprinter was brought to The Netherlands by the company Duoteq. Any area of The Netherlands can be cut through the webpage 3D Data Ordering Website. More information in the information brochure about 3D printing technologies and physical mock-ups.
4 October 2010
We have updated the information site of www.Bestel3D.nl. This was required because the DTM-NL 2008 describes the surface in a different way than in the old DTM set. Bridges, for example, are now included. This extends the possibilities and applications of the data.
1 October 2010
We released a new version of the freeware software Open3D Data Converter. This new version of the software (v3.6) makes it possible to convert 2D Shape polygons into: KML/KMZ, CityGML, Shape Multipatch and OBJ format. De conversion software is developed to turn different geographic data into a CityGML 3D file. The software is aimed to create wide area representations of cities and towns. The required data can be obtained through the ordering service 3D Data Ordering Website.
24 September 2010
The Automatiseringsgids published an article (in Dutch) about our Digital Watermarking project. Through Digital Watermarking it is possible to embed invisible information into digital imagery.
28 July 2010
From middle 2010, ESRI(R) has a new version of ArcGIS available, ArcGIS 10. The aim of the new version is providing better tools to manage 3D data. ArcGIS 10 and 3D Data processing brochureexplains how ArcGIS 10 (ArcScene) can be used to modify and extend 3D data.
27 July 2010
For some years, we have sold building height data derived from stereophotos. This dataset represents buildings as blocks with flat rooftops. This representation is enough for many applications (e.g. environmental calculations) but insufficient for others (e.g. visualization). For this reason, our company has started work to create detailed 3D models derived from laser altimetry data like the Algemene Hoogtemodel Nederland (AHN-2, Dutch General Elevation Model) currently developed by different remote sensing companies. ITC, from Enschede, is helping with this task. More information in the 3D building reconstruction brochure.
16 July 2010
Staff took the iniciative for the webpages: satellietfoto.startkabel.nl and luchtfoto.startkabel.nl. The sites offer example products and providers. I.e., we show aerial imagery.
29 January 2010
We received a contract from ProRail (the Dutch railway infrastructure authority). ProRail ordered the delivery of a countrywide terrrain elevation data set and an objects height data set. Refined noise prediction models will be constructed with the data to assess environmental problems along the railway network.
26 October 2009
We finished a test with the Google Earth plug-in in combination with the Vector-NL data set. A sample page was created.
31 december 2008
We completed a major project: 3D Data Ordering website. This is the first Dutch automated 3D data ordering system aimed at engineering firms and public organisations.
20 November 2008
Bestel3D.nl announces the availability of a free Open Source program which can be downloaded from the Downloads section of our website. The program is called Open3D DataConverter and enables users to convert geographical files (in the Shape format) to either the KMZ or the KML file formats. The files can then subsequently be displayed within a 3D program like Google Earth. We deliver building data as part of the Vector-NL data set. These files can also be converted with this program. The Open3D DataConverter programma was sponsored by Senter/Novem (IPC program within ICT-Kring Delft).
22 August 2008
Bestel3D.nl maintains its position as the leading suppier of 3D GIS data in The Netherlands. We received this week two major orders from environmental agencies for large coverages in the western part of The Netherlands. Both DTM-NL and Vector-NL data sets were sold.
1 November 2007
We moved to a new office (downtown Delft). The building originally accommodated a bank and was specially designed in 1897 to fit in the setting of Delft.
9 August 2007
We received a contract from the municipality of Rotterdam (the second largest city in the Netherlands) to deliver a complete data structure concerning buildings, vegetation, water and industrial objects. Rotterdam intends to enhance the in-house data quality and update frequency.